If you're considering facelift surgery, you may wonder what are the telltale signs of good facelift results. Or, perhaps you're more intrigued about the signs of a bad facelift? Regardless, this article will explore the difference between great facelift results and not-so-great facelift results.
Dr Mark Doyle is one of the best plastic surgeons Gold Coast has with over 30 years of experience. He is a specialist in many facial rejuvenation procedures. The primary focus of Dr Doyle's career has been helping men and women appear as a younger version of themselves.
What Does a "Good Facelift" Mean?
"In my opinion, someone who has had a good facelift must look natural, look rejuvenated and younger but not overdone. Bad facelifts are the opposite," says Dr Doyle.
This, of course, is subjective. Some people like to have an overdone look, while others don't. Many people prefer that their facelift results are not obvious. From Dr Doyle's perspective, the signs of a bad facelift include overdone and unnatural-looking results. A good facelift, in Dr Doyle's opinion, is a natural facelift.
Telltale Signs of a Bad Facelift
A bad facelift can be spotted with the following cues:
visible scars
earlobes that are attached to the head
overstretched skin
limited facial movement
a young-looking face but old neck
These signs will be explained in detail later in this article.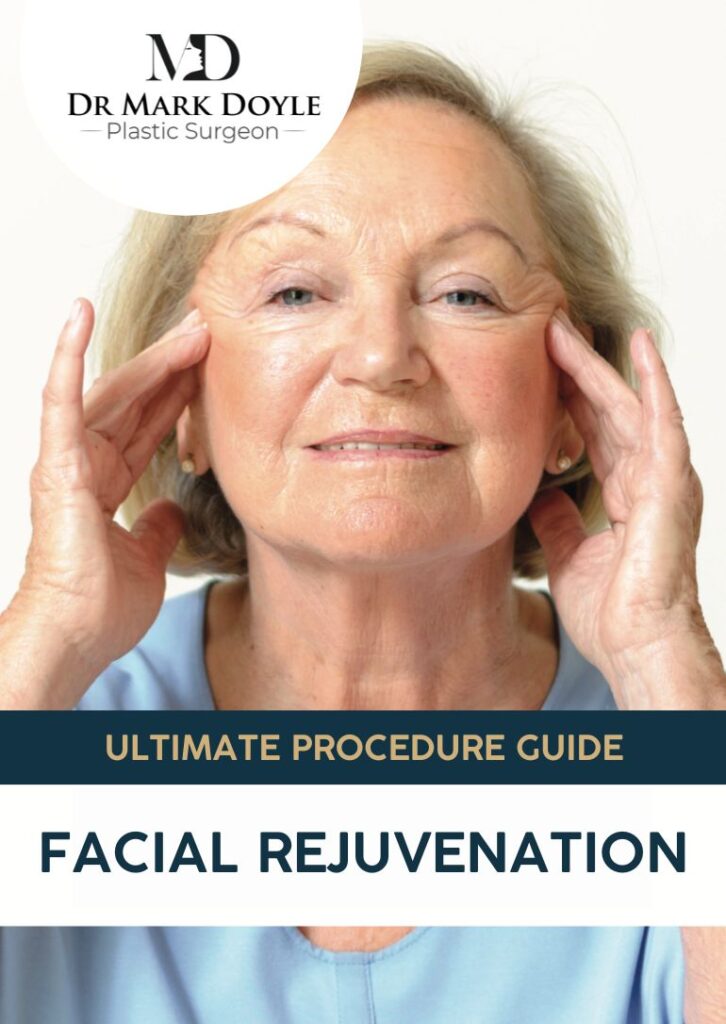 How to Ensure Quality Facelift Results, Even Before You Make an Appointment
Often, potential plastic surgery patients shop around with price at front of mind. This can be problematic for a number of reasons. If price is your main concern, you'll likely be blind to other important factors.
And, a "cheap facelift" will not always guarantee quality facelift results (and results are permanent!). So, your surgeon is someone you want to pick carefully.
We suggest that, when considering your options, you take your research seriously. This means researching your surgeon's qualifications (are they a plastic or cosmetic surgeon?) and also learning about their experience. A fantastic way to assess their ability is to view their facelift before and after images.
In these photos, you can look out for the following factors to decide whether the patient had a good or bad facelift result.
Telltale Signs of Excellent Facelift Results
In order to achieve an excellent result, there are a few key areas your surgeon should concentrate on. These include:
1. The Position of Your Scars
Scarring is the number one identifier for any cosmetic surgery procedure. If you don't want others to immediately know that you've had surgery, hidden scars are essential.
Dr Doyle's advice?
Facelift scars should be placed in the hairline wherever possible.
The scars in front of the ears should follow the natural curves of the ear at all times.
Scars behind the ears should be placed in the hollow where the ears meet the skull.
The earlobes must also be in the correct position at the end of the procedure and under no tension.
"I see a lot of patients who have had facelift surgery performed elsewhere and the earlobes seem to extend into the neck. This is very obvious even to the untrained eye," says Dr Doyle.
"Badly placed and obvious scars are a telltale sign that you have had a facelift."
2. Facial Movement Should be Normal
Quality facelift results should not restrict facial movement. After surgery, you should be able to smile, squint, and frown as normal. If you have significant restrictions in movement, this is a sign that your facelift was done too tightly or aggressively.
"Injuries to the nerves in the face during a facelift are very uncommon in the hands of an experienced surgeon," says Dr Doyle.
"After a good facelift, you should be able to move your mouth and create normal facial expressions. If you lack animation in your lower face or forehead it will be very obvious that you have had a facelift."
Muscle weakness following a facelift may also be permanent. If you experience significant muscle weakness or paralysis, seek medical attention right away.
3. Your Skin is Tight, in the Right Direction
When you have a facelift, your surgeon will tighten the underlying muscles and tissues. They will also lift sagging skin. This will help to give you a more youthful appearance. If everything is done correctly, your skin will be pulled tight in the right direction. This will help to reduce sagging jowls and wrinkles.
"When tightening the facial skin, it is important to pull the skin back in the correct direction and the correct degree of tightness. Your skin should feel tight, plump and smooth after your surgery," says Dr Doyle.
"Tightening of the tissues under the skin is very important to take the tension off the skin when it is healing. This will help you to have finer, less obvious scars. It's also important to decrease facial wrinkles but it is normal to have some wrinkles.
A facelift with overtightened skin, with a face with no fine lines at all, can look very abnormal."
4. You Should Appear Around 10 Years Younger After Your Facelift
One of the most obvious telltale signs of good facelift results is that you appear younger than before the surgery. A facelift can take years off your appearance, restoring a more youthful look. Most patients report looking about 10 years younger after their surgery. It counts as one of the anti aging solutions.
"A good facelift returns facial tissues to their original position. It doesn't pull them to places they've never been," says Dr Doyle.
"A good facelift should take around 10 years off your appearance. After a facelift, you should look like a younger version of yourself, not a different person. Most patients who want a more radical result can look very weird afterwards."

Dr Doyle
It's important that your expectations are realistic about what facelift surgery can achieve for you. No facial rejuvenation procedure should change your natural features – rather, it should enhance them. A good candidate for any facial rejuvenation procedure, whether brow lift, blepharoplasty or facelift, should understand this. Surgical techniques designed to reduce signs of ageing create a younger and natural-looking appearance.
5. Your Face and Neck Look the Same
One of the telltale signs of good facelift results is that your face and neck look about the same. If your facelift is performed properly, the skin on your neck will tighten and the muscle will be pulled back so that your neck looks more proportional to your face. When done well, a face and neck lift surgical procedure can take years off your appearance – all by removing excess skin.
"The face and neck should look the same following the surgery. A young face with an old neck and vice versa can look very strange. For this reason, face and neck surgery should be performed in the same procedure," says Dr Doyle.
Dr Doyle always recommends that you undergo a full face and neck lift procedure, rather than just one or the other. Results from this combination procedure give better and long-lasting results.
Frequently Asked Questions
How long does a facelift last?
You can expect the results of your facelift to take about 10 years off your age and last about 10 years. Please note that facelift surgery will not prevent future aging, however, your face will appear more youthful than before.
You can also increase facelift longevity by keeping healthy, investing in good skincare and considering cosmetic injectables.
Why does it take 6 months for facelift results to show?
We always recommend waiting 6 months to see your final facelift result. This is because facial tissues can remain swollen for many months. Swelling can create the appearance of asymmetry or a 'not tight enough' result. Usually, 6 months after your facelift will you be able to see the final results of your facelift procedure.
Book Your Consultation Today
With 30 years of experience behind him, Dr Doyle is confident in his ability to achieve great facelift results. If you're considering facelift surgery and would like a natural-looking result, call or email us now to book your initial consultation.
About Dr Mark Doyle FRACS (Plast) – Specialist Plastic Surgeon
Dr Mark Doyle is a Specialist Plastic Surgeon with over thirty years of experience. He specialises in face lift surgery in Gold Coast and Brisbane, and also offers a range of body and breast procedures.
Dr Doyle is a fully qualified Doctor and surgeon. He has completed all required training to be a Specialist Plastic Surgeon and is driven by an committed to providing excellent standards of care.
NEXT STEPS
Do Your Research
What to Bring to Your Plastic Surgeon Consultation
Bring a friend or relative for support and discussion regarding your choices
Take notes and read all provided information thoroughly
Read about what to expect in your Initial Surgery Consultation
Book Your Plastic Surgery Consultation
Get a Referral from your GP or specialist – this is required to book a consultation with Dr. Doyle.
Email us or call on 07 5598 0988 to arrange your consultation appointment.
Pay your $285 Consultation Fee in advance to secure your consultation.
Please contact us to arrange to book a consultation with our Specialist Plastic Surgeon or to speak with our Patient Care Advisor.
Send an enquiry form today or phone 07 5598 0988 during Clinic Hours.
–
*DISCLAIMER: All information on Dr Mark Doyle website is general and is not intended to be medical advice nor does it constitute a doctor-patient relationship. Results can vary significantly and depend on individual patient circumstances. All images on this website, unless specified as real patient images, are stock images used for illustrative purposes only. Surgery risks and complications will be covered in detail during a consultation with your surgeon. Book a consult for details regarding your cosmetic surgery procedure.
Dr. Mark Doyle AHPRA Registration: Dr Mark Doyle MED0001375519 Specialist Plastic Surgery – MBBS FRACS FRCS