Chin and neck liposuction helps to improve the appearance of a double chin. It can also help reduce neck fat or turkey neck in the neck area. Further, this procedure can improve the proportions of the face. For example, by making the chin, jowls or jawline look more defined. Facial liposuction is best combined with other facial rejuvenation procedures.
This is an outpatient procedure and full recovery takes approximately 6 weeks.
How Does Neck and Chin Liposuction Work?
Many men and women complain of stubborn pockets of fat on their necks and under the chin. This can make them look heavy and bloated and can disrupt the side profile – particularly in photos.
Neck lipo refers to the surgical removal or reduction of neck fat. This neck fat removal procedure treats unwanted stores of fat to contour the neck and jowls area. During this procedure, fatty tissue and fatty deposits are removed using liposuction.
Double chin lipo is also referred to as submental liposuction. Lipo for double chin surgery is a very popular procedure due to its contouring ability. Some choose to have it by itself or with other procedures such as a lower facelift.
Similarly to neck liposuction, chin lipo targets fatty deposits under the chin – also known as a double chin. This chin fat removal procedure can help to improve the chin and jawline definition. With liposuction under chin, patients can achieve a slimmer and more youthful-looking face.
Please note that this procedure cannot remove excess skin under the chin. If this is your main concern, a neck lift may be a good option for you.
Guide to Facial Rejuvenation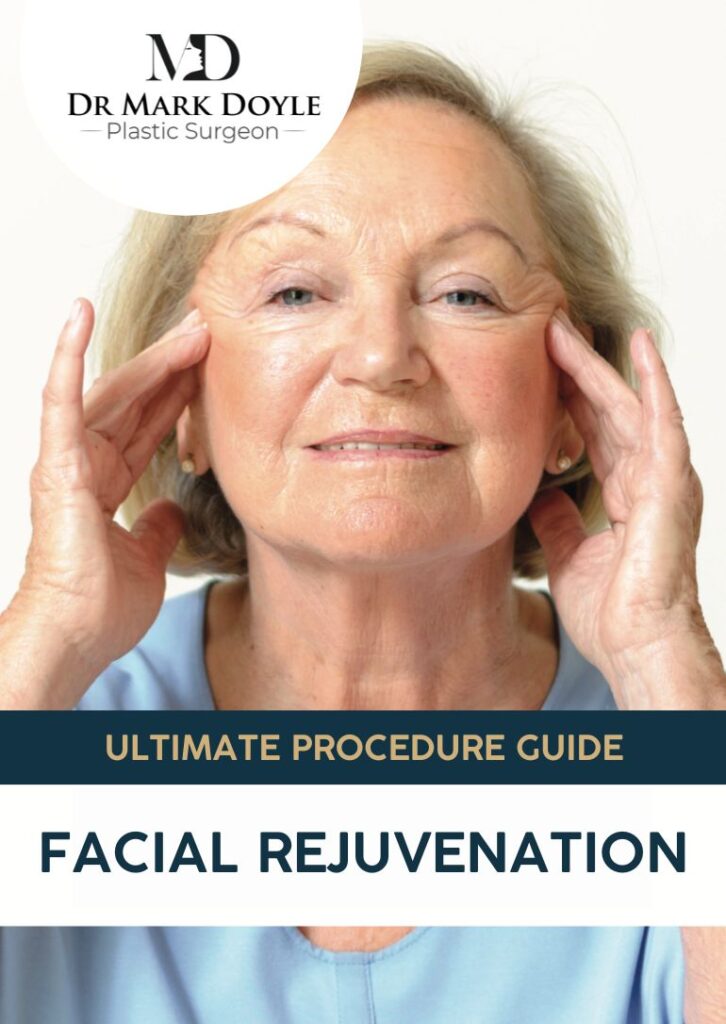 What (Dr Doyle Believes) Makes a Good Neck and Chin Liposuction Result
There are several factors that Dr Doyle believes lead to an excellent chin and neck liposuction result. Depending on your concerns, your chin, neck and jawline should look more defined. And, your face shape should appear slimmer.
Secondly, a telltale sign of a quality result is subtle scar placement. All liposuction incisions leave small, needle-like scars. Chin lipo incisions go under the chin, and neck liposuction scars go best behind the earlobe.
Different Areas for Face and Neck Lipo
Facial Lipo
Face lipo can be performed on various areas of the face, such as under the chin, around the jawline and on the neck. This is referred to as lower face lipo and can help one to appear slimmer and more youthful.
Jawline Liposuction
Jaw liposuction is a very popular chin and neck liposuction procedure. Contouring the jawline can create a more youthful V-shape for the face. It's also helpful to reduce jowls if the main concern is excess pockets of fat in the jowl area.
Double Chin Liposuction
Liposuction double chin surgery is the most common procedure. It can help to create a more appealing side profile and reduce the appearance of a double chin. Liposuction chin is also sometimes performed to remove a chin dimple.
Neck and Chin Liposuction - The Procedure
Chin and neck liposuction is less invasive than most procedures, however, it's always done under general anaesthesia in an accredited hospital. This means you will be asleep during the surgery and won't feel a thing. The surgery is usually performed without you having to stay in the hospital overnight.
Face liposuction is done using a cannula (a small, surgical tube) and a vacuum device. The cannula is inserted through very small incisions made behind the ears. Once in place, the cannula breaks up the fat cells and suctions them out.
Recovery
Although a small procedure, it requires some downtime. Chin and neck liposuction recovery takes about 4-6 weeks total. You'll need to wear a head garment to support your new results and reduce swelling. This garment will need to be worn for 2-3 weeks after your procedure.
Furthermore for chin liposuction after 1 week the swelling and bruising should begin to subside. And, by 2 weeks most of the bruising will be gone. However, it can take up to 6 weeks for all the swelling to dissipate.
It's important to take it easy during this time and avoid strenuous activity or exercise. You don't want to risk damaging your newly contoured chin and neck area.
Right Candidate
Chin and neck fat removal isn't for everyone. The ideal candidate for chin and neck liposuction has skin that is elastic and not too loose.
As well as this, in order to qualify for lipo on double chin surgery, you must be in good health, have realistic expectations and do not smoke.
You may be a good candidate for this procedure if you:
dislike the appearance of your double chin
have chin and neck fullness that won't go away with diet or exercise
have good skin elasticity in your chin and neck area, and
are in good overall health
If you have loose skin under your chin, a neck lift may be a better option for you.
Dr Doyle is the leading surgeon for chin liposuction Gold Coast has to offer. He also serves chin liposuction Brisbane clientele, who travel specifically to see him.
Frequently Asked Questions(FAQs)
There are a few ways to lose neck fat. One is by having a healthy diet and exercise. If you lose weight and it doesn't affect your neck, you may want to look into liposuction surgery. Keep in mind that liposuction is not a weight-loss surgery. So if you are not close to your ideal weight, you may not be a good candidate.
There are a few ways to lose a double chin. One is by having a healthy diet and exercise, the second is by attempting double chin exercises for an extended period of time. Some people believe they are effective, however, if it doesn't work for you, you may want to look into liposuction surgery.
The best way to lose fat around the face is by having a healthy diet and exercise. Cardio, as well as facial exercises, are also believed to be effective. If it doesn't work for you, liposuction neck surgery may be a good option.
All surgical procedures will leave scars. However, chin liposuction scars should be very small and unnoticeable. The incisions are usually made behind the ears or under the chin. These are strategic locations to ensure the scarring is not visible.
The results of your chin and neck liposuction will be visible almost immediately. However, it can take up to 6 weeks for the swelling to fully subside.
After chin liposuction, you can expect swelling, bruising and a little discomfort. These side effects should subside within 2-6 weeks. You will also need to wear a head garment to help with the swelling. This garment will need to be worn for 2-3 weeks after your chin liposuction procedure.
Swelling and lumpiness are common after liposuction. This is due to fluid build-up under the skin and it usually resolves on its own.
If you have lumps on your chin after chin liposuction, you should massage the area. This will help break up the lumps. If the lumps don't go away, you should contact Dr Doyle for advice.
Chin and neck liposuction is generally considered to be a safe surgery, but like all surgeries, there are some risks involved. These risks include infection, bleeding, bruising, and swelling. There is also a small risk of damage to the nerves in the chin or neck area, which can result in numbness. These risks will be explained to you in detail during your initial consultation.
The results of chin and neck liposuction are long-lasting. However, you may notice some slight changes over time due to aging or weight fluctuations.
It's always recommended that you are at or near your ideal weight before surgery. And, that you have maintained this weight for at least 6 months. This will ensure you get the best results.
No, you won't experience any pain during your liposuction surgery as you will be under general anaesthesia. After your chin and neck liposuction surgery, you may experience some discomfort. This is normal and can be well managed with pain medication.
Next Steps
If you're interested in neck or chin liposuction, the next step is to book a consultation with Dr Doyle.
To book a consultation, please call us on 5598 0988 or fill out our online enquiry form.
About Dr Mark Doyle FRACS (Plast) – Specialist Plastic Surgeon
Dr Mark Doyle is a Specialist Plastic Surgeon with over thirty years of experience. He specialises in face lift surgery in Gold Coast and Brisbane, and also offers a range of body and breast procedures.
Dr Doyle is a fully qualified Doctor and surgeon. He has completed all required training to be a Specialist Plastic Surgeon and is driven by an committed to providing excellent standards of care.
NEXT STEPS
Do Your Research
What to Bring to Your Plastic Surgeon Consultation
Bring a friend or relative for support and discussion regarding your choices
Take notes and read all provided information thoroughly
Read about what to expect in your Initial Surgery Consultation
Book Your Plastic Surgery Consultation
Get a Referral from your GP or specialist – this is required to book a consultation with Dr. Doyle.
Email us or call on 07 5598 0988 to arrange your consultation appointment.
Pay your $285 Consultation Fee in advance to secure your consultation.
Please contact us to arrange to book a consultation with our Specialist Plastic Surgeon or to speak with our Patient Care Advisor.
Send an enquiry form today or phone 07 5598 0988 during Clinic Hours.
–
*DISCLAIMER: All information on Dr Mark Doyle website is general and is not intended to be medical advice nor does it constitute a doctor-patient relationship. Results can vary significantly and depend on individual patient circumstances. All images on this website, unless specified as real patient images, are stock images used for illustrative purposes only. Surgery risks and complications will be covered in detail during a consultation with your surgeon. Book a consult for details regarding your cosmetic surgery procedure.
Dr. Mark Doyle AHPRA Registration: Dr Mark Doyle MED0001375519 Specialist Plastic Surgery – MBBS FRACS FRCS