A facelift smoothes out fine lines and wrinkles and tightens the lower face region. It can reduce jowls, marionette lines, and nasolabial folds.
Face lift surgery is an outpatient procedure meaning you can leave the hospital on the day of your surgery. Swelling and bruising are common after surgery. And full recovery from facelift can take up to three months.
What is a Face Lift?
Face lift surgery also known as Rhytidectomy is a cosmetic surgery procedure that rejuvenates the face by correcting sagging skin and wrinkles. It can be performed on both men and women of all ages. However, the best results are seen by patients in their 40s, 50s, and 60s. A lower face lift helps to reduce the appearance of jowls and tighten the mid-face. For this reason, it is often referred to as a jowl lift or a mid face lift.
Dr Doyle is a highly sought after facial rejuvenation surgeon. He uses the best techniques to produce natural-looking results that last. His area of expertise is a combination face and neck lift which can take 10 or more years off your appearance.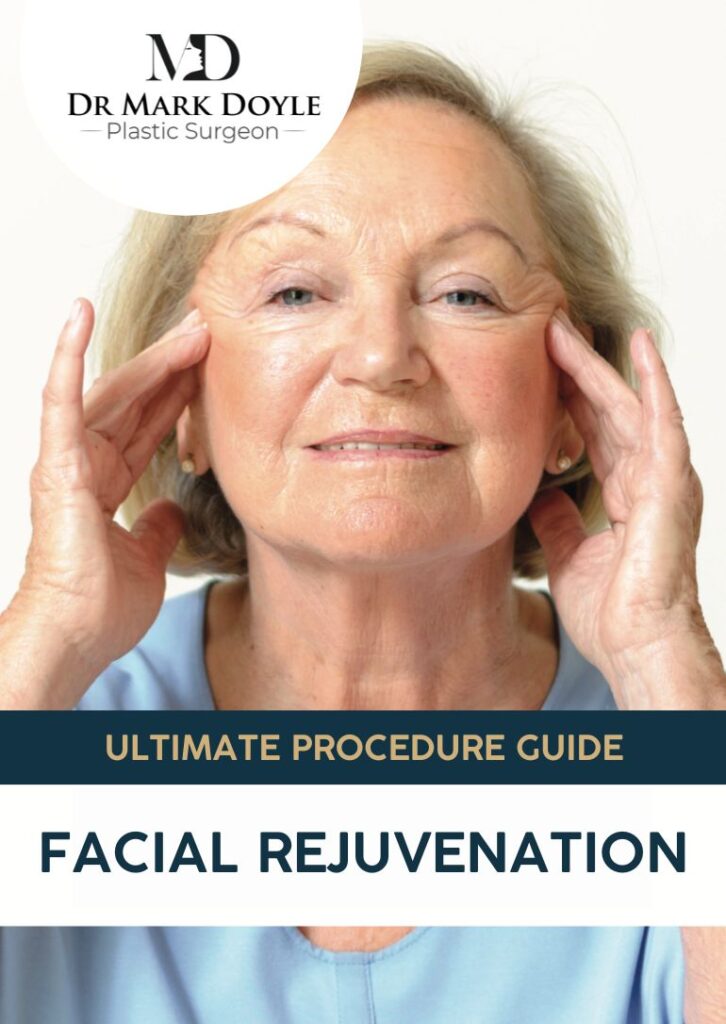 What (Dr Doyle Believes) Makes Good Facelift Results
Facelift surgery is considered exceptional when the results show a subtle lift and a refreshed, more youthful appearance. Further, Dr Doyle's preference is to avoid any visible traces of surgery. The face should always look natural, not "operated on."
Dr Mark Doyle is offering face lift to all patients from Gold Coast, Brisbane and Sunshine Coast.
Different Types of Facelift
Face lifts come in many variations, with the most common being a lower face and neck lift using the SMAS or deep plane face lift technique. A face lift procedure also varies in extensiveness depending on your desired improvements.
Mini Face Lift
Mini face lift is the least extensive face lifting procedure and is recommended for those under 40 years of age only. A mini facelift is less invasive than a full lift, and the results are less obvious. When performed alone, even an advanced mini face lift cannot address concerns on the upper face or neck. If you're concerned about the appearance of these areas, you may consider full face or neck lift surgery.
Mini Facelift vs Midface Lift
Mini facelifts and midface lifts are sometimes confused. They are two different procedures that serve different purposes:
A mini face lift procedure can help to address concerns in the lower half of your face, such as sagging skin in the jowls.
A midface lift, on the other hand, is designed to target the middle half of your face. This includes concerns such as sagging skin around the cheek area. Dr Doyle does not perform a mid-facial lift alone, but rather as part of a full facelift procedure.
Full Face Lift
Face lift for jowls is the standard face tightening procedure that uses the SMAS technique. This is best done as a combination neck and lower face lift. A traditional or full facelift addresses both the skin and the underlying tissue (using an s lift technique). This tends to have a more dramatic tightening effect. As the incisions extend behind the ear, this procedure helps to lift the midface too.
SMAS Lift
The superficial musculoaponeurotic system, or SMAS, is a fibrous network that is made up of the platysma muscle, the parotid fascia, and the fibromuscular layer on the cheek. The layer is responsible for facial expressions.The SMAS face-lifting technique is a way to suspend the soft tissues of your face. This is done by tightening the skin. SMAS technique involves making small incisions around the ear, which are then used to tighten the skin and underlying tissue. The results make a big difference in terms of reducing the appearance of wrinkles and sagging skin on the face.
Deep Plane Facelift
This procedure uses a similar technique to a full facelift, yet extends to the deeper layer of tissues. The recovery period is generally harder than a SMAS facelift and the results are comparably similar. For this reason, Dr Doyle does not perform this facelift variation.
Dr Doyle's Preferred Type of Facelift
Of all the options, Dr Doyle prefers the SMAS technique, which involves a higher level of facial lift and heals faster and lasts longer. Close attention to detail, sharp surgical talents, and artistic ability are all required to achieve beautiful face lift results.
Various procedures can be combined with facelift to achieve enhanced results. This includes face liposuction, typically that of the neck and chin area, facial fat transfer and eyelid or brow surgery.
Dr Doyle commonly combines the following procedures in his facial rejuvenation surgery to achieve the best long term results.
Face Lift Procedure
A cosmetic face lift procedure is performed under general anesthesia and takes approximately 3 to 5 hours. Dr Doyle performs all of his surgery at John Flynn Private Hospital in Tugun on the Gold Coast.
Facelift Incisions
During your surgical face lift treatment, Dr Doyle will make incisions in front of and behind the ear, extending into the hairline. Excess skin is removed and the deeper tissues are lifted. The face is then re-draped over the new contours and the incisions are closed.
Mini Facelift Incisions
A mini facelift procedure is sometimes called a short scar facelift, because of the technique used. The mini facelift incision is small and discreet. It involves making small incisions in front of (and not behind) the ear. This results in shorter scarring that can be seen with a full facelift.
Recovery
A facelift procedure requires some time to recover. Most face lift patients go home the same day of surgery, although some may stay overnight in the hospital.
For the first few days following surgery, your face will be swollen and bruised. This will dissipate over the course of a few weeks. You are expected to keep activities to a minimum for at least 6 weeks following your procedure.
Right Candidate
A surgical face lift is not suitable for everyone. As a general rule, the right candidate is healthy and a non-smoker (or willing to give up smoking). They must also have a positive outlook and realistic expectations of what the surgery can achieve.
Physically, a facelift may be suitable for you if you have:
sagging jowls
deep creases that run from the nose to the corners of the mouth
excess skin or fatty deposits under the chin and jaw
fat loss in the central face
a worn-out or tired appearance
If your goal is to reduce signs of aging and look like a younger version of yourself, a facelift may be right for you. Dr Doyle will discuss your specific concerns and requirements during your initial consultation.
Face Lift Before and After
This gallery depicts Dr Doyle's facelift before and after photos. Looking at before and after face lift pictures is a great way of researching your procedure. You will be able to determine your surgeon's skill, face lift scar placement, and overall results.
*Remember, everyone is different and each individual will have unique and varying results.
Dr Doyle is the leading surgeon for face lift Gold Coast has to offer. He also serves face lift Brisbane clientele, who travel specifically to see him.
Before and After Photos by Specialist Plastic Surgeon Dr Mark Doyle
Frequently Asked Questions (FAQs)
A face lift tightens loose skin and tissues of the face. The face lift is usually performed on the mid-face, lower face, or both.
When done well, this procedure can help you to look like a younger version of yourself. It can correct sagging skin, jowls, and deep wrinkles around the mouth and nose. It can also improve your facial skin contours and give you a more youthful appearance.
A mini face lift is a slightly modified take on a traditional lift. Mini face lift surgery targets small amounts of excess skin in the jowl and lower face area. This procedure is sometimes termed a mini lower face lift. The goal of this "mini" S lift surgery is to correct sagging skin. Mini facelifts can improve skin texture and make your jawline more defined.
Mini face lifts are best performed on patients under the age of 40. And, a mini facelift in 30s is ideal. If you have surgery in the right age group, you can look younger and recover faster. Dr Doyle will always assess if you need a mini face lift by looking at your skin. If it's not droopy, injectable treatments may be recommended instead. If it has lots of excess skin and tissue, you may consider full facial rejuvenation.
A mini procedure requires less invasive surgical handling of the facial tissue than a complete facelift. In a mini facelift, the surgical incision line remains in front of the ear. It does not go behind the ear. Also, mini lift targets only the skin. Comparatively, a full lift targets the skin and underlying tissues.
An S lift procedure refers to a 'segmental face lift.' This simply means that it lifts the lower portion of the face only. S lift results are less obvious than a traditional facelift. So, for this reason, the S lift facelift is best suited for younger patients.
A deep plane lift is a type of face lift that uses a special technique to lift deeper layers of the face. According to Dr Doyle, a deep plane facelift and SMAS lift achieve similar results. With a SMAS facelift, you may find a shorter healing time and longer-lasting results.
Results from a face lift can last anywhere from 10 to 15 years. This, however, may depend on your individual characteristics and factors like how well you take care of your skin.
Yes, all facelift procedures will result in scarring. A face lift incision starts in the hairline, follows the natural curves in front of the ear and continues behind the ear.
The mini face lift scar is placed in front of the ear in a slight S shape. It follows the natural curve of the ear.
When done carefully, this results in well-hidden scars that are not visible to the untrained eye. Scars will take about 12 months to fade to their final appearance.
As with any surgery, face lift risks and complications include infection, bleeding, reactions to anesthesia, and scarring.
Most face lift complications are minor and can be treated without resulting in any long-term damage. Any further risks will be explained to you during your initial consultation.
Face lift is performed under general anaesthesia so you won't feel anything during your procedure.
Most face lift patients report only mild discomfort during the first few days following surgery. This can be controlled with pain medication.
Next Steps
The first step on your face lift journey is to book a consultation. Dr Doyle will assess your suitability for surgery and answer any questions you may have.
To book a consultation, please call us on 5598 0988 or fill out our online enquiry form.
About Dr Mark Doyle FRACS (Plast) – Specialist Plastic Surgeon
Dr Mark Doyle is a Specialist Plastic Surgeon with over thirty years of experience. He specialises in face lift surgery in Gold Coast and Brisbane, and also offers a range of body and breast procedures.
Dr Doyle is a fully qualified Doctor and surgeon. He has completed all required training to be a Specialist Plastic Surgeon and is driven by an committed to providing excellent standards of care.
NEXT STEPS
Do Your Research
What to Bring to Your Plastic Surgeon Consultation
Bring a friend or relative for support and discussion regarding your choices
Take notes and read all provided information thoroughly
Read about what to expect in your Initial Surgery Consultation
Book Your Plastic Surgery Consultation
Get a Referral from your GP or specialist – this is required to book a consultation with Dr. Doyle.
Email us or call on 07 5598 0988 to arrange your consultation appointment.
Pay your $285 Consultation Fee in advance to secure your consultation.
Please contact us to arrange to book a consultation with our Specialist Plastic Surgeon or to speak with our Patient Care Advisor.
Send an enquiry form today or phone 07 5598 0988 during Clinic Hours.
–
*DISCLAIMER: All information on Dr Mark Doyle website is general and is not intended to be medical advice nor does it constitute a doctor-patient relationship. Results can vary significantly and depend on individual patient circumstances. All images on this website, unless specified as real patient images, are stock images used for illustrative purposes only. Surgery risks and complications will be covered in detail during a consultation with your surgeon. Book a consult for details regarding your cosmetic surgery procedure.
Dr. Mark Doyle AHPRA Registration: Dr Mark Doyle MED0001375519 Specialist Plastic Surgery – MBBS FRACS FRCS