Tip plasty or tip rhinoplasty is a less invasive alternative to a standard rhinoplasty. It treats the lower two-thirds of the nose, leaving the nose bridge untouched. The treatment area includes the nasal tip only. It is popular as it can help to create two commonly requested nose shapes, the button nose and the upturned nose.
This procedure is an outpatient procedure meaning you can go home after surgery. After tip rhinoplasty, you may have some bruising and swelling. This will resolve on its own and full recovery from surgery should take about 6 weeks.
What is a Nose Tip Surgery?
Nose tip rhinoplasty is a cosmetic surgery procedure that improves the appearance of the nose tip. It works for different nose shapes and can change the shape of your nose by making subtle changes. It can reduce the size of a bulbous tip or wide nose tip as well as lift a drooping nose tip. Finally, it can help to create the commonly-requested button nose shape.
Nose tip reduction usually results in very subtle changes. It is not suitable for everyone. Depending on your desired changes, nasal tip surgery is often done in combination with full rhinoplasty.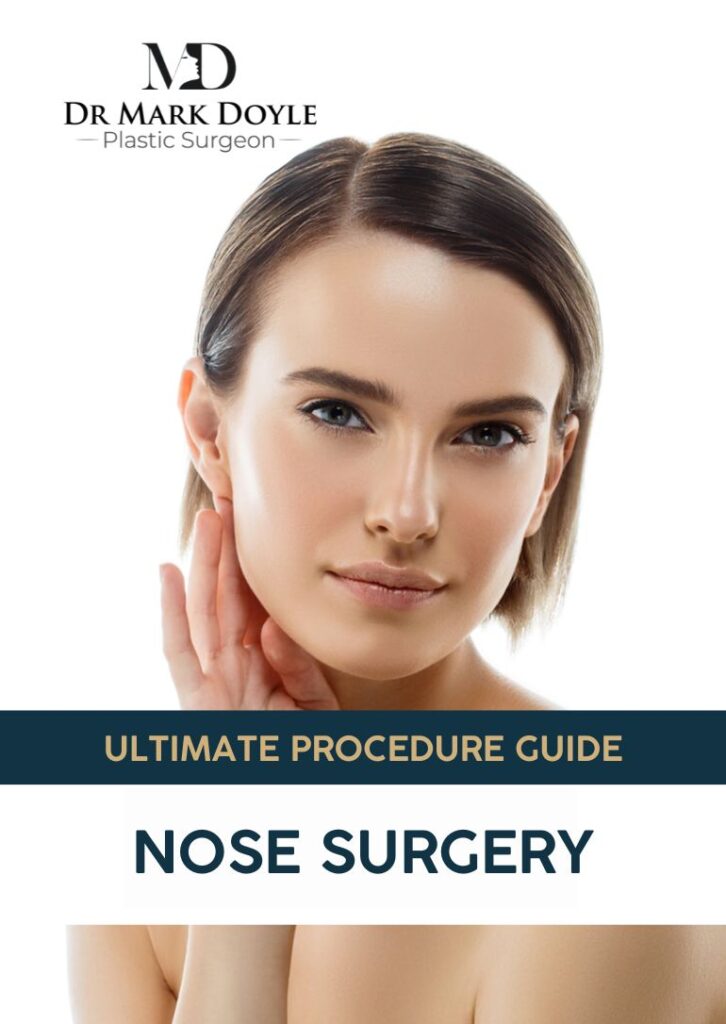 What (Dr Doyle Believes) Makes a Good Nose Tip Surgery Result
Dr Doyle believes that the results of all mini nose job procedures should look balanced and in proportion with your other features. The nose should appear natural and not worked on. Further, it should look as if it always belonged to your face.
If you're considering nose tip surgery, be sure to consult with an experienced rhinoplasty surgeon. Because nose tip lifting is a complex procedure, you should always use a trusted nose surgeon. Dr Doyle is one of Gold Coast's best rhinoplasty surgeons. He can provide you with beautiful and natural results.
Different Types of Nose Tip Surgery
Mini Rhinoplasty
This procedure refers to a tip plasty procedure. It targets the cartilage on the tip of the nose and the cartilage around the nostrils.
Full Rhinoplasty
This procedure addresses all parts of the nose including the nasal bridge, the cartilage and the skin on top. Complete rhinoplasty has the potential to create more dramatic results.
Bulbous Tip Rhinoplasty
This procedure addresses concerns with a bulbous nose. Reshaping a bulbous nose tip is a more complex nose job procedure. It involves removing excess cartilage to create a smaller structure and then defining the nose tip.
Bulbous nose rhinoplasty sometimes requires a more comprehensive rhinoplasty procedure. This is because if Dr Doyle narrows only the tip of the nose, the bridge can become out of proportion. Whether you need a bulbous nose job or a complete nose job will be determined during your assessment with Dr Doyle.
Nose Tip Surgery Procedure
During this tipoplasty procedure, Dr Doyle will make very small incisions inside the nostrils. He will then sculpt the cartilage to create the desired shape.
Nose tip rhinoplasty is an outpatient procedure that takes about one hour to complete. It is always performed under general anaesthesia at an accredited hospital.
Recovery
Most people can return to their normal activities within a week. You may have some bruising and swelling around your nose and eyes for the first few days. These symptoms should dissipate within a week or so.
During tip plasty recovery you should rest with your head elevated to reduce swelling. You may need one to two weeks off work and full recovery can take around 6 weeks.
Right Candidate
A nose tip lift is not suitable for everyone. A good candidate for this procedure is someone in good physical and mental health. As well as someone who does not smoke. Further, they must have realistic expectations of what nose tip plasty can achieve. The procedure can enhance your nose but not give you a new one!
You may be a good candidate if you have:
an over projected nose tip
a bulbous tip, or
a drooping nose tip
Other patients commonly want to achieve an upturned button nose. Whether you need a full or mini rhinoplasty for this is up to Dr Doyle to decide during your assessment.
Nose Tip Surgery Before and After
This gallery shows Dr Doyle's real patient tip rhinoplasty before and after photos.
When researching your procedure you should always view nose tip reduction before and after photos. This will help you to make a decision based on the results of your potential surgeon.
*Remember, everyone is different and each individual will have unique and varying results.
FAQs
Tip rhinoplasty or rhinoplasty is the best option to reduce the size of your nose tip.
A bulbous nose can be contoured with a rhinoplasty or tip rhinoplasty procedure.
Rhinoplasty surgery is a cosmetic procedure that changes the shape of your nose. The surgery can be performed for functional or aesthetic purposes or both.
Nose tip surgery is also known as a tip plasty or a tip rhinoplasty. It is a type of rhinoplasty that focuses solely on the tip of the nose.
Yes, a tip plasty procedure leaves scars. Incisions for this procedure are placed inside the nostril or on the underside of your nose. Because they're internal, they're unlikely to be visible.
The results of a tip rhinoplasty are permanent.
As with any surgery, there are risks involved with a nose tip procedure. These include swelling and bruising, anaesthesia-related complications, and nosebleeds. Further risks will be discussed during your consultation.
No, this procedure happens under general anesthesia so you will be asleep for your procedure and you will not feel anything.
However, you may experience some discomfort when you wake up from surgery. This is well managed with prescription pain medication.
It can take a few weeks for the incisions to heal, and up to 8 weeks for the internal nasal structures to heal. Swelling may be present for 6-12 months following mini nose job surgery.
Next Steps
If you're considering nose tip surgery, schedule a consultation with Dr Mark Doyle. He is a world-renowned rhinoplasty surgeon who has helped patients achieve their desired appearance for over 30 years.
To book a consultation, please call us on 5598 0988 or fill out our online enquiry form.
About Dr Mark Doyle FRACS (Plast) – Specialist Plastic Surgeon
Dr Mark Doyle is a Specialist Plastic Surgeon with over thirty years of experience. He specialises in face lift surgery in Gold Coast and Brisbane, and also offers a range of body and breast procedures.
Dr Doyle is a fully qualified Doctor and surgeon. He has completed all required training to be a Specialist Plastic Surgeon and is driven by an committed to providing excellent standards of care.
NEXT STEPS
Do Your Research
What to Bring to Your Plastic Surgeon Consultation
Bring a friend or relative for support and discussion regarding your choices
Take notes and read all provided information thoroughly
Read about what to expect in your Initial Surgery Consultation
Book Your Plastic Surgery Consultation
Get a Referral from your GP or specialist – this is required to book a consultation with Dr. Doyle.
Email us or call on 07 5598 0988 to arrange your consultation appointment.
Pay your $285 Consultation Fee in advance to secure your consultation.
Please contact us to arrange to book a consultation with our Specialist Plastic Surgeon or to speak with our Patient Care Advisor.
Send an enquiry form today or phone 07 5598 0988 during Clinic Hours.
–
*DISCLAIMER: All information on Dr Mark Doyle website is general and is not intended to be medical advice nor does it constitute a doctor-patient relationship. Results can vary significantly and depend on individual patient circumstances. All images on this website, unless specified as real patient images, are stock images used for illustrative purposes only. Surgery risks and complications will be covered in detail during a consultation with your surgeon. Book a consult for details regarding your cosmetic surgery procedure.
Dr. Mark Doyle AHPRA Registration: Dr Mark Doyle MED0001375519 Specialist Plastic Surgery – MBBS FRACS FRCS