Neck lift surgery addresses loose neck skin, fatty deposits under the chin and lax neck muscles. A neck lift or neck rejuvenation is a cosmetic surgery procedure to lift the neck. It helps to tighten saggy skin and smooth out wrinkles. As a result, a neck lift procedure can help you to appear more youthful.
This procedure is an outpatient surgery so you can go home straight after surgery. You may experience some swelling and brusing and full recovery can take 6 weeks.
What is a Neck Lift?
Neck lift surgery is a cosmetic procedure that improves the appearance of an aging neck. A neck lift can tighten skin and muscles, remove fat deposits, and minimise wrinkles.
A neck and chin lift allows for tightening of the entire neck region. If you have lost weight or aged, and this has made your neck become loose and saggy, a surgical neck lift may help.
Guide to Facial Rejuvenation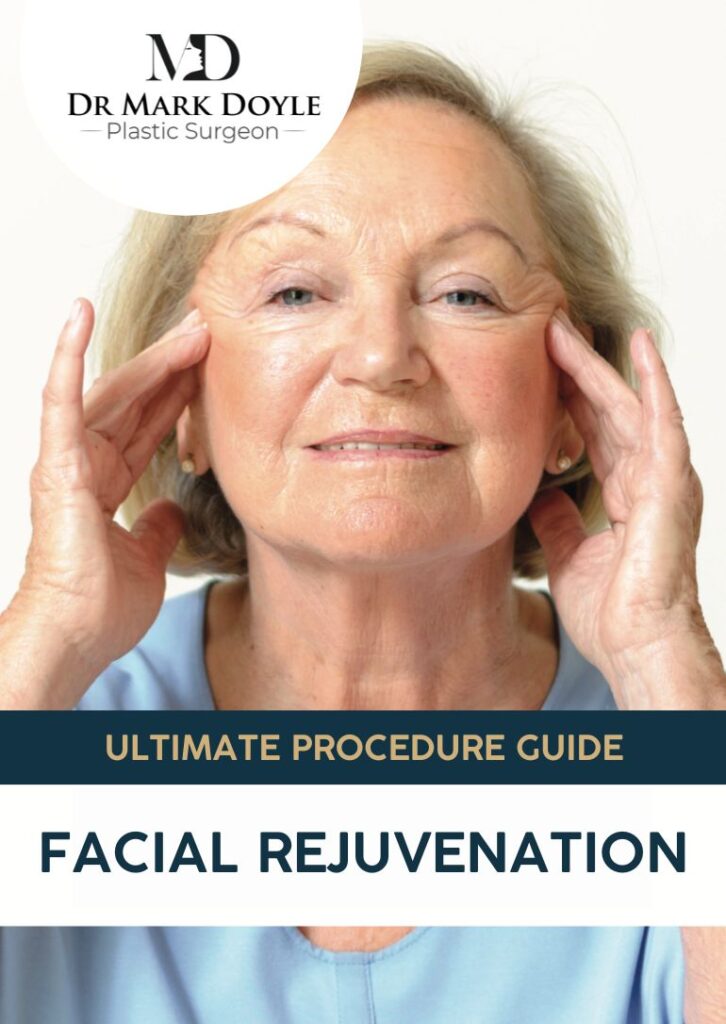 What (Dr Doyle Believes) Makes a Good Neck Lift Result
Dr Doyle believes that the best neck surgery results come from a subtle rejuvenation. Results should appear natural, not be obvious, and have minimal scarring. The neck skin should be smooth but shouldn't appear to be "pulling" or under any tension.
Further, as a neck lift specialist, Dr Doyle believes that neck lift and facelift surgery should always be combined. Having a neck and lower face lift at the same time ensures that the face and neck look the same age following surgery. This also means that your jowls get treated too, so your result will be more cohesive.
Dr Mark Doyle offers neck lift to all patients from Gold Coast, Brisbane and Sunshine Coast.
Neck Lift Options
Submental Neck lift (Skin Only)
Also called a double chin neck lift, this procedure focuses on lifting loose skin below the chin. The overall result is a smoother appearance of the neck. If you have large amounts of excess fat or a 'double chin', neck and chin liposuction may also be recommended.
Neck Lift With Muscle Tightening
This procedure, also called a platysmaplasty, targets loose skin, excess fat, and the underlying neck muscles. Treating the muscles helps to reduce the appearance of a 'turkey wattle' or 'turkey neck.' It can also tidy up vertical folds of skin or muscle cords at the front of the neck.
Full Face and Neck Lift
This procedure refers to the combination of a neck lift with a facelift. Also called a neck and jowl lift, this is the most effective procedure to reduce signs of ageing in the face. It can target all areas of the neck and lower face, including the jowls. This is Dr Doyle's preferred procedure as it gives the best and longest-lasting results.
Neck Lift Procedure
A neck lift operation is always performed at an accredited hospital under general anaesthesia. The procedure usually takes around 3 hours to complete.
Generally, neck lift incisions are behind the ear lobes and sometimes under the chin. Once Dr Doyle has made these incisions, he will lift the skin and tighten the underlying neck muscles. Then, the skin, the platysma muscle and other tissues are lifted and tightened before being sutured into their new position.
Recovery
Most patients report minimal pain following neck lift surgery. It's expected that you'll have swelling and bruising following your procedure. Any swelling under chin after neck lift should subside within about 3 weeks. Yet, it can take up to 6 months to complete subside.
During your neck lift recovery, you'll need to wear a head garment to support your new results and reduce swelling. This garment needs to be worn for 2-3 weeks after your procedure. The total recovery period is about 6 weeks until you can return to normal activities.
Right Candidate
Neck lift surgery is an individualised procedure. And unfortunately, it's not suitable for everyone. As a general rule, you must be healthy and a non-smoker (or willing to give up smoking). You must also have realistic expectations of what the surgery can achieve.
A neck lift may be suitable for you if you have:
excess fine lines and wrinkles in the neck area
loose sagging skin or 'turkey neck'
no jaw definition or a 'double chin,' and
insecurities around your neck skin
If you'd like to achieve a more youthful appearance and a better shape for your neck, a neck lift may be right for you. Dr Doyle will discuss your specific concerns and requirements during your consultation.
Neck Lift Before and After
Looking at neck lift before and after photos can be the best way to decide if a procedure is right for you. It's also helpful when deciding on a surgeon.
The following images show Dr Doyle's real patient's neck lift before after gallery. Please note that the following patients all had a combination face and neck lift procedure.
*Remember everyone is different and each individual will have unique and varying results.
Neck Lift Gallery by Specialist Plastic Surgeon Dr Mark Doyle
FAQs
Yes. Neck lift surgery scars are behind the ears and sometimes under the chin. They are well hidden and will pale over a period of 12 to 24 months.
You can expect the results of your neck lift to last around 10 years. This procedure will not prevent you from aging in the future. But, it will help you age more gracefully than someone who has not had a neck lift.
Your final neck lift results will be apparent 6 weeks after surgery. This is when most of your swelling will have subsided.
Possible neck lift surgery complications include swelling, bruising, bleeding, infection and poor wound healing. All other risks will be explained to you during your consultation with Dr Doyle.
A neck lift may help to reduce a double chin, but not always. Dr Doyle considers the best practice is a neck lift for saggy skin rather than for excess fat. If excess fat is the main concern, chin and neck liposuction may be a good alternative.
A mini neck lift is one that doesn't address the muscles underneath the neck. It targets only loose skin and excess fat stores under the chin. The results from this procedure don't last as long, so Dr Doyle always recommends a "full" neck lift.
You'll be asleep during your surgery so you won't feel any pain. You may experience some discomfort after surgery but this can be easily managed with pain medication.
Next Steps
If you're considering neck lift surgery, the next step is to book a consultation. Dr Doyle is the leading surgeon for neck lift Gold Coast has to offer. He also serves neck lift Brisbane clientele, who travel specifically to see him. He will assess your individual concerns and give you an honest opinion about whether this procedure is right for you.
To book a consultation, please call us on 5598 0988 or fill out our online enquiry form.
About Dr Mark Doyle FRACS (Plast) – Specialist Plastic Surgeon
Dr Mark Doyle is a Specialist Plastic Surgeon with over thirty years of experience. He specialises in face lift surgery in Gold Coast and Brisbane, and also offers a range of body and breast procedures.
Dr Doyle is a fully qualified Doctor and surgeon. He has completed all required training to be a Specialist Plastic Surgeon and is driven by an committed to providing excellent standards of care.
NEXT STEPS
Do Your Research
What to Bring to Your Plastic Surgeon Consultation
Bring a friend or relative for support and discussion regarding your choices
Take notes and read all provided information thoroughly
Read about what to expect in your Initial Surgery Consultation
Book Your Plastic Surgery Consultation
Get a Referral from your GP or specialist – this is required to book a consultation with Dr. Doyle.
Email us or call on 07 5598 0988 to arrange your consultation appointment.
Pay your $285 Consultation Fee in advance to secure your consultation.
Please contact us to arrange to book a consultation with our Specialist Plastic Surgeon or to speak with our Patient Care Advisor.
Send an enquiry form today or phone 07 5598 0988 during Clinic Hours.
–
*DISCLAIMER: All information on Dr Mark Doyle website is general and is not intended to be medical advice nor does it constitute a doctor-patient relationship. Results can vary significantly and depend on individual patient circumstances. All images on this website, unless specified as real patient images, are stock images used for illustrative purposes only. Surgery risks and complications will be covered in detail during a consultation with your surgeon. Book a consult for details regarding your cosmetic surgery procedure.
Dr. Mark Doyle AHPRA Registration: Dr Mark Doyle MED0001375519 Specialist Plastic Surgery – MBBS FRACS FRCS