This eyelid surgery procedure involves removing excess skin, muscle and fat. As we age, the skin on our eyelids stretches and the muscles that support the eyelids weaken. This causes loose droopy eyelid skin, fat pads and wrinkling under the eyes. Blepharoplasty or eyelid lift can treat the upper eyelids, lower eyelids, or both.
This surgery may be a good option if you are unhappy with the appearance of your eyes. Blepharoplasty surgery can help fix saggy eyelids, excess eyelid folds, and asymmetrical eyelids.
The surgery itself is an outpatient procedure, meaning you can go home the same day. You may experience some bruising and swelling, and a full recovery can take 4-6 weeks.
Get a free virtual eyelid assessment by Dr Doyle today!
What Is Blepharoplasty?
Blepharoplasty is surgery to lift the eyelids. People often get it to make the area around their eyes look younger and more awake.
Upper eyelid surgery is recommended if there is sagging of the upper eyelid skin. And, there are two reasons why people might have eyelid lift surgery. The first reason is for cosmetic reasons. And, the second reason is to improve hampered vision due to excess skin.
Likewise, people choose to have surgery on their lower eyelids for a few different reasons. These include dark circles under eyes, puffy eyes, and excess fat or wrinkles.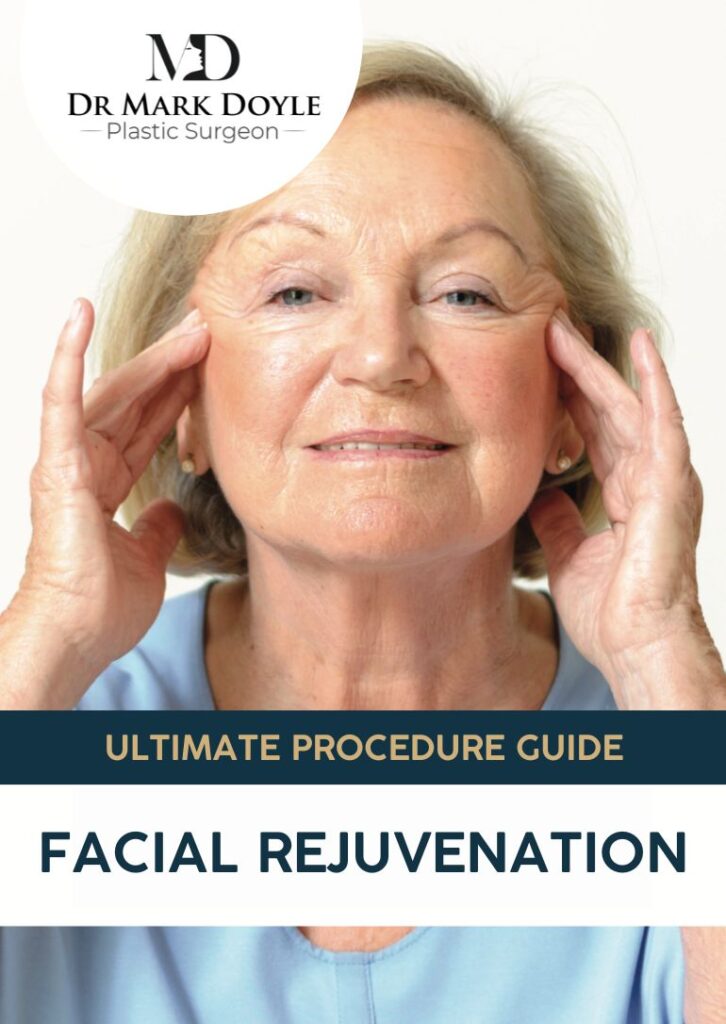 What (Dr Doyle Believes) Makes a Good Blepharoplasty Result
A telltale sign of a quality eyelid surgery result is inconspicuous scarring. Scars are in the natural crease of the upper eyelid and just below the waterline of the lower eyelid.
As well as this, an experienced surgeon knows exactly how much eyelid skin to take away. If he takes too much excess skin from the upper lid, patients can have difficulty shutting their eyes. Dr Doyle always considers this when planning for a successful blepharoplasty result.
Different Types of Blepharoplasty
Upper Eyelid Lift
Upper blepharoplasty targets only the upper eyelid. It helps to reduce wrinkles, sagging skin, and concerns over a drooping eyelid. Blepharoplasty surgery for droopy eyes can also improve vision that's affected by excess upper eyelid skin.
Lower Eyelid Lift
Lower blepharoplasty helps to improve the lower eyelids with eye bag removal. Also called eye bag surgery, it can reduce wrinkles, lines, and eye bags. This under eyelid blepharoplasty has the power to help us look less tired and more alert.
Simultaneous Upper and Lower Eyelid Lift
Having both an upper and lower eyelid lift can rejuvenate the entire eye area. Combining these procedures can provide dramatic results. It can help you appear more youthful and refreshed.
Eyelid Surgery and Brow Lift
Another common combination procedure is eyebrow and eyelid lift surgery. Sometimes, by lifting the eyebrow enough, it lifts the upper eyelid skin. This reduces the need for a blepharoplasty. These procedures together have longer-lasting results. This is because more skin gets pulled up and it is less likely to sag again for a longer time.
Blepharoplasty Procedure
Eyelid surgery gets done under general anesthesia at an accredited hospital. It usually takes 1-2 hours to complete.
The type of procedure that you have depends on which area you want to treat. For upper eyelid surgery, the incision is made in the crease of the eyelid. Then, Dr Doyle will remove excess fat and skin and tightens underlying muscles. Then he will suture the incision closed. Lower blepharoplasty is similar, except the incision is just below the lower eyelashes.
Recovery
Most patients feel good after surgery and experience minimal pain and discomfort. The time needed to recover depends on the type of procedure that you have.
Blepharoplasty recovery is usually pretty short and varies between each individual. Most people only need 1-2 weeks before feeling normal again. During your recovery, you'll likely experience some bruising and swelling around the eyes. This is normal and will subside within 2-3 weeks.
Full recovery can take anywhere between 4-6 weeks.
It's important to take it easy for the first week or so and avoid strenuous activity. You should also sleep with your head elevated on pillows to help reduce swelling.
After a few weeks, you will be able to see the full results of your surgery. And, because the incisions are made in natural creases, any scarring will be hidden.
Right Candidate
If you're considering eyelid surgery, it's important that you have realistic expectations. Blepharoplasty can do wonders for restoring a youthful appearance. But, it won't make you look like a completely different person.
The best candidates for blepharoplasty are in good physical and mental health. They have excess skin or fat around their upper and/or lower eyelids that makes them look older than they feel. Blepharoplasty can also improve vision that's been affected by drooping eyelid skin.
If you are considering blepharoplasty, schedule a consultation with Dr Doyle today.
Blepharoplasty Before and After
This gallery depicts Dr Doyle's eyelid lift before and after photos. Looking at before and after eyelid lift pictures is a great way of researching your procedure. You will be able to determine your surgeon's skill, scar placement, and overall results.
*Remember, everyone is different and each individual will have unique and varying results.
Dr Doyle is the leading surgeon for eyelid lift Gold Coast has to offer. He also serves eyelid lift Brisbane clientele, who travel specifically to see him.
Blepharoplasty Gallery by Specialist Plastic Surgeon Dr Doyle
FAQs
Yes, blepharoplasty leaves scars. However, scars are in the natural creases of the eyelid, making them difficult to see.
Yes, blepharoplasty can be combined with other procedures such as a brow lift or facelift.
The most common risks associated with blepharoplasty are swelling, bruising, and infection. These risks are typically minor and can be easily managed with medication. Other potential risks will be discussed during your initial consultation.
The results of blepharoplasty are usually long-lasting. However, surgery cannot prevent future signs of ageing. If you smoke or spend a lot of time in the sun, this can accelerate the ageing process. In turn, it may cause your blepharoplasty results to wear off faster.
No, blepharoplasty is not painful. You will be given a general anaesthetic (ie. be asleep) so you will not feel any pain during the procedure. You may have some discomfort after surgery but this can be managed with pain medication.
Yes, there are three types of eyelids – droopy eyelids, hooded eyelids and puffy eyelids.
Blepharoplasty can correct all three eyelid types – using slight technical variations. Dr Doyle has over 30 years of experience and is qualified in working with all types of eyelids.
Drooping eyelids are a common cause of ageing that require surgical correction. Blepharoplasty is the most effective way of fixing droopy eyelids. The procedure removes excess skin and fat, before tightening the muscles. This can result in a more youthful and alert appearance.
There are many causes of dark circles under the eyes. These include ageing, genetics, sun damage, dehydration and poor sleep habits. In some cases, dark circles can be a sign of an underlying medical condition.
No, blepharoplasty cannot get rid of dark circles. The procedure is designed to improve the appearance of the eyelids and does not address dark circles specifically. However, some people may see an improvement in their dark circles after surgery. This is because the skin around the eyes will be tightened, resulting in a better overall appearance.
How to get rid of under-eye bags is a question Dr Doyle gets asked all the time. The best way to get rid of under-eye bags depends on the cause. If they are due to ageing, then blepharoplasty may be the best option. However, if they are caused by dehydration or allergies, then simple lifestyle changes may be all that is required.
How to get rid of puffy eyes is a question Dr Doyle gets asked all the time. The majority of people who have puffiness under their eyes also have excess skin and fat. Blepharoplasty can remove both of these problems, resulting in less puffiness under the eyes.
Next Steps
Blepharoplasty is great for you if you feel like your eyelids feel heavy and you'd like to improve your eyes aesthetic. If you are considering this surgery, schedule a consultation with Dr Doyle today.
To book a consultation, please call us on 5598 0988 or fill out our online enquiry form.
About Dr Mark Doyle FRACS (Plast) – Specialist Plastic Surgeon
Dr Mark Doyle is a Specialist Plastic Surgeon with over thirty years of experience. He specialises in face lift surgery in Gold Coast and Brisbane, and also offers a range of body and breast procedures.
Dr Doyle is a fully qualified Doctor and surgeon. He has completed all required training to be a Specialist Plastic Surgeon and is driven by an committed to providing excellent standards of care.
NEXT STEPS
Do Your Research
What to Bring to Your Plastic Surgeon Consultation
Bring a friend or relative for support and discussion regarding your choices
Take notes and read all provided information thoroughly
Read about what to expect in your Initial Surgery Consultation
Book Your Plastic Surgery Consultation
Get a Referral from your GP or specialist – this is required to book a consultation with Dr. Doyle.
Email us or call on 07 5598 0988 to arrange your consultation appointment.
Pay your $285 Consultation Fee in advance to secure your consultation.
Please contact us to arrange to book a consultation with our Specialist Plastic Surgeon or to speak with our Patient Care Advisor.
Send an enquiry form today or phone 07 5598 0988 during Clinic Hours.
–
*DISCLAIMER: All information on Dr Mark Doyle website is general and is not intended to be medical advice nor does it constitute a doctor-patient relationship. Results can vary significantly and depend on individual patient circumstances. All images on this website, unless specified as real patient images, are stock images used for illustrative purposes only. Surgery risks and complications will be covered in detail during a consultation with your surgeon. Book a consult for details regarding your cosmetic surgery procedure.
Dr. Mark Doyle AHPRA Registration: Dr Mark Doyle MED0001375519 Specialist Plastic Surgery – MBBS FRACS FRCS