Droopy eyelids can be a nuisance and can make you look older than you are. Factors like genetics, aging, and fatigue can all cause unwanted eyelid sagging. Particularly though, this condition is a result of the natural ageing process. As our skin loses its strength with age, our eyelid skin and upper eyelid muscles can become lax. This can result in sagging eyelids or the appearance of hooded eyes. Some people have only one droopy eyelid and some have two.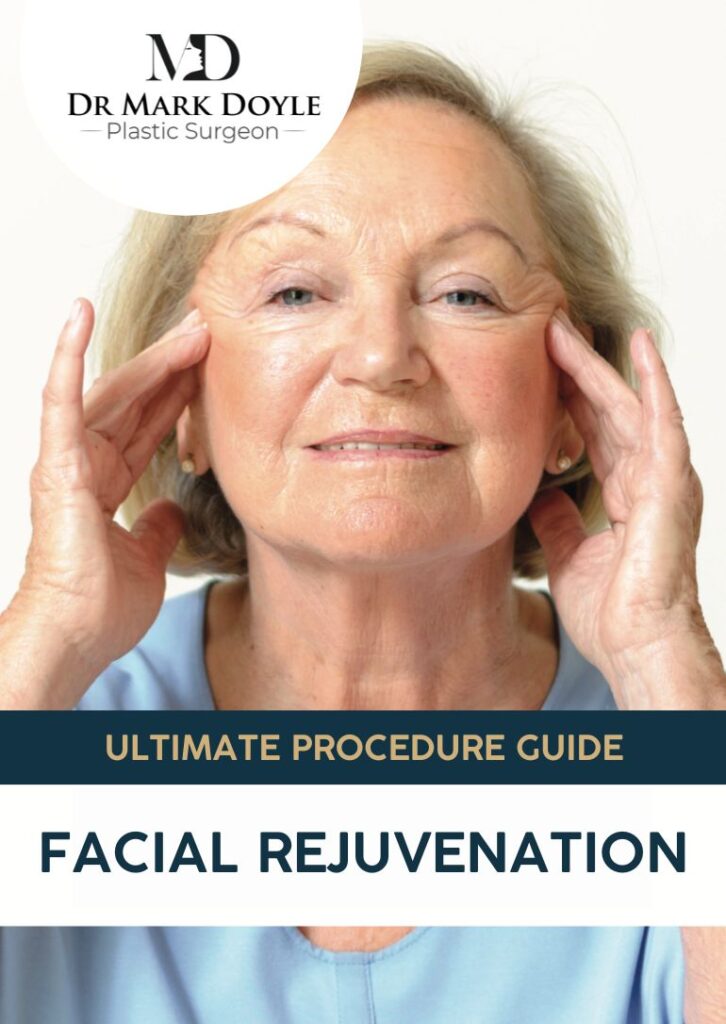 Unfortunately, loose eyelid skin can impair vision. This is especially true when the upper eyelid drapes over the eyelashes. If you struggle to see, saggy eyelids can cause difficulties in everyday life. Fortunately, an eyelid lift is a form of droopy eyelids surgery and can ease the problem.
What Causes a Droopy Eyelid?
Ptosis of the eye is often caused by the natural ageing process. As we age, our skin loses its elasticity and becomes thinner. This can cause the muscles around our eyes to weaken and droop. Other droopy eyelid causes include:
Genetics
If droopy eyelids run in your family, you may be more likely to develop them yourself.
Fatigue
If you're tired or lacking sleep, it can cause the muscles around your eyes to droop.
Allergies
Allergic reactions can cause inflammation and swelling in the eyelids, leading to drooping.
Injury
An injury to your head or face can damage the muscles or nerves that control your eyelids. This can cause drooping.
Underlying Medical Conditions
Some neurological conditions can cause ptosis of eyelid. This includes myasthenia gravis, a disorder that weakens your muscles. Horner syndrome. That affects the nerves that control your eyelids. And, third nerve palsy, which results from damage to the third cranial nerve.
Droopy Eyelid Symptoms
The main symptom for a sagging eyelid is sagging skin on the upper eyelid that hangs over the eyelashes. This can present as a droopy lower eyelid or a droopy upper eyelid.
Droopy skin above eyelid can cause difficulties with vision and make it hard to apply makeup. Unfortunately, this condition can also cause a host of other problems. These include:
Tired appearance
Eyelid irritation
Dry eyes
Headache
Reduced peripheral vision
Eyelid drooping is not usually serious. Most of the time, this condition is a cosmetic issue and not a risk to your health. Yet, if your eyelids droop so much that you can't see, you should avoid driving until it's fixed.
How to Fix Droopy Eyelids?
The first step to treat droopy eyes is to visit an ophthalmologist or eyelid specialist. They can rule out any severe underlying conditions. If droopy eyelids are a result of the natural ageing process, there are some ways to treat them. Of all droopy eyelid solutions, surgery is often the most effective treatment.
1. How to Fix Droopy Eyes Without Surgery
Some people may opt for home remedies before considering sagging eyelid surgery.
These can include:
Apply cool cucumber slices or tea bags to droopy eyelids for about 10 minutes each day. This may decrease inflammation and tighten the skin.
Exercise your eyes often by rolling them up and down, side to side, and in circles. This may tighten droopy eyelids and reduce wrinkles.
Eye massage and self lymph drainage. Stimulating the eyelids may increase circulation and nerve responses.
Please keep in mind that these home remedies are not a permanent fix to droopy eyes. They may help relieve tired or inflamed eyes, but are not likely to reduce sagging skin caused by ageing.
If you're looking for a more reliable solution, hooded eyes surgery is a droopy eyelid fix and it may be right for you.
2. Fix Droopy Eyelids with Hooded Eye Surgery
Blepharoplasty is surgery for hooded eyelids. This type of droopy eyelid surgery can be done for both the upper and lower eyelids. Hooded eyes surgery involves making incisions along the natural lines of your eyelids. Then it involves removing any excess skin, fat, or muscle.
Hooded eyes surgery is an effective way to fix droopy eyelids and can be long-lasting. But, it's important to note that this surgery cannot prevent further aging in the future. So, while you can expect to age more gracefully, it is possible that your eyelids could droop again in the future.
Benefits of Upper or Lower Eyelid Surgery
Eyelid lifting surgery has many benefits, including:
Reduced wrinkles and fine lines around the eyes
Tightened skin around the eyelids
Improved vision (if droopy eyelids were causing obstruction)
A more youthful appearance
Long lasting results
Another benefit is that Medicare may help you pay for your surgery. This is ONLY if the main reason you are having surgery is to improve your vision. This relies on an ophthalmologist's confirmation and suggestion for surgery.
If you are considering droopy eye surgery, it is important to consult with an experienced plastic surgeon. Dr Mark Doyle is a highly sought-after blepharoplasty specialist. He has over 30 years of experience and produces natural-looking results.
Droopy Eyelid Treatment: Dr Doyle's Recommendation
Blepharoplasty surgery is Dr Doyle's recommended treatment for how to fix droopy eyes. This is what to expect when you have this plastic surgery procedure.
Before
You will have a consultation with Dr Doyle to discuss your goals and expectations. He will examine your eyelids, both the upper and lower eyelids. This is to rule out any other potential causes of your ptosis and ensure that surgery is right for you.
On the Day
On the day of your surgery, you will need someone to drive you to and from the hospital.
Dr Doyle performs eyelid surgery under general anaesthesia as an outpatient procedure. This means you can go home the same day. The entire surgery takes about 1-2 hours.
During surgery, Dr Doyle will make incisions along the natural lines of your eyelids. This will give him access to the underlying fat, skin, and muscle. He will then remove any excess tissue. The incisions will be closed with dissolvable stitches.
After
After your surgery, you will have some bruising and swelling around your eyes, which is normal. This usually subsides within a week or two. You may also experience some dryness, itchiness, and tearing. These symptoms are also normal and should resolve within a few weeks.
Recovery
Recovery after droopy eye surgery is relatively quick. Most people take about a week off from work and 4 weeks off from their normal activities. During this time, you should avoid any strenuous activity. This includes exercise, lifting heavy objects, and bending over. It's also important to sleep with your head elevated for at least a week or two to reduce swelling.
After surgery, it's important that you follow your post-op instructions very closely. This will ensure that you recover well and get the best results.
Results
Your blepharoplasty results will be visible once the swelling subsides. This is usually a few weeks after your procedure. Results are long-lasting but your eyelids will continue to age and sag over time.
If you are considering droopy eyelid surgery, contact our office today to schedule a consultation with Dr Doyle. He'll be happy to answer any questions you have and help you determine if this surgery is right for you.
FAQ
What Is Ptosis of the Eyelid?
Ptosis is drooping that occurs when the muscles used to raise your eyelid weaken or stretch. This can cause your eyelid to droop or droop lower than normal. Eyelid drooping can affect one or both eyes.
What Causes Ptosis of the Eyelid?
There are many potential causes of ptosis. This includes ageing, fatigue, injury and neurological conditions.
How to Fix Droopy Lower Eyelid?
Lower blepharoplasty can fix excess skin and fat around the lower eyelid. During surgery, Dr Doyle will remove this tissue to improve a droopy bottom eyelid.
How to Fix Droopy Upper Eyelid?
Upper blepharoplasty is the best procedure to fix droopy upper eyelids. During surgery, Dr Doyle will remove excess skin and fat to improve your upper eyelids.
How to Qualify for Eyelid Surgery?
You may qualify for eyelid surgery if you have excess skin and/or fat around your upper and/or lower eyelids. As well, if your vision is affected by upper eyelid droopy skin, this surgery may be right for you.
What Are Complications From Eyelid Surgery?
The most common complications from eyelid surgery are bleeding and infection. Other potential complications include asymmetry, scarring and skin numbness. All surgical risks will be explained to you in detail during your initial consultation with Dr Doyle.
How Long Do Blepharoplasty Results Last?
Results from eyelid lift surgery are long-lasting and can last more than 5 years. However, this procedure is unable to prevent future signs of ageing.
Is Eyelid Surgery Covered by Medicare?
Yes, if an opthmologist finds that your eyelid skin is obstructing your vision. If so, you may be eligible for a small Medicare rebate for eyelid surgery. Regardless, there will still be out of pocket costs.
Next Steps – Book a Consultation with Dr Doyle
If you're interested in cosmetic surgery to correct a droopy eyelid, contact Dr Doyle's office for a consultation. He will assess your individual case and recommend the best treatment plan to help you achieve your desired results. To book an appointment, call 5598 0988 or submit a confidential enquiry form.
About Dr Mark Doyle FRACS (Plast) – Specialist Plastic Surgeon
Dr Mark Doyle is a Specialist Plastic Surgeon with over thirty years of experience. He specialises in face lift surgery in Gold Coast and Brisbane, and also offers a range of body and breast procedures.
Dr Doyle is a fully qualified Doctor and surgeon. He has completed all required training to be a Specialist Plastic Surgeon and is driven by an committed to providing excellent standards of care.
NEXT STEPS
Do Your Research
What to Bring to Your Plastic Surgeon Consultation
Bring a friend or relative for support and discussion regarding your choices
Take notes and read all provided information thoroughly
Read about what to expect in your Initial Surgery Consultation
Book Your Plastic Surgery Consultation
Get a Referral from your GP or specialist – this is required to book a consultation with Dr. Doyle.
Email us or call on 07 5598 0988 to arrange your consultation appointment.
Pay your $285 Consultation Fee in advance to secure your consultation.
Please contact us to arrange to book a consultation with our Specialist Plastic Surgeon or to speak with our Patient Care Advisor.
Send an enquiry form today or phone 07 5598 0988 during Clinic Hours.
–
*DISCLAIMER: All information on Dr Mark Doyle website is general and is not intended to be medical advice nor does it constitute a doctor-patient relationship. Results can vary significantly and depend on individual patient circumstances. All images on this website, unless specified as real patient images, are stock images used for illustrative purposes only. Surgery risks and complications will be covered in detail during a consultation with your surgeon. Book a consult for details regarding your cosmetic surgery procedure.
Dr. Mark Doyle AHPRA Registration: Dr Mark Doyle MED0001375519 Specialist Plastic Surgery – MBBS FRACS FRCS